Monday 27th February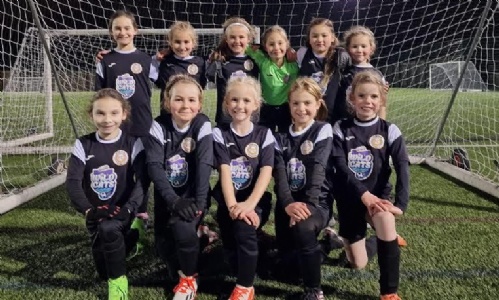 On Friday night Amelie and Rachel from Year 4's football team (Otford United U9 Wildcats) played their last league match of the season and won 7:0, meaning that for the second season in a row their team were the undefeated winners of their league with 11 wins and 2 draws, scoring 51 goals and conceding only 8!
On Sunday the team then went to East London and were the mascots for the Tottenham Hotspur women's team in their FA Cup 5th round match against Reading. It was a fantastic experience for the girls to meet professional female football players and see them live in action!
This was followed on Monday night with their own Premier League challenge when they went back to East London to play the West Ham Academy U9 team. Having drawn 2:2 with the Millwall Academy U9 team during half-term the stakes were high, and the girls did not disappoint by winning 4:2!
With a tournament against the top teams from the other Kent leagues and a match against the Brighton & Hove Albion Academy U9 team coming up, could the Otford United U9 Wildcats be England Lionesses in the making?!