St John's Book day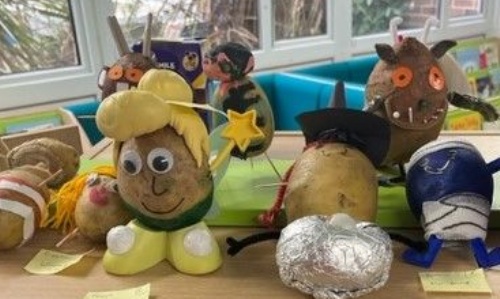 On Friday 10th March, we celebrated St John's book day. Our book day was full of events based around the theme of 'Food Glorious Food'
The children took part in a number of different activities including:
3 Clue costumes....The children chose 3 items of clothing or props that give clues about a character from a book. A deer stalker hat, magnifying glass and pipe…Sherlock Holmes An umbrella, carpet bag and lamp……Mary Poppins A stripy t shirt, glasses and a bobble hat……..Where's Wally!
Story Spuds...Bring in a potato decorated as a character from a story. Will we see some Potter potatoes? Tigers who came to Tea tatties? Or Mr Majeika mash?! See some pictures below!
Recipe competition...Design a recipe linked to story, character or book. Write and decorate the recipe and bring it into school on Friday 10th for the judges to make their decision on the winner from ks1 and ks2. The children are invited to make their creations using their recipes and can either send in a photo of the delicious final product or bring it into school for their classmates and teachers to try on Friday 10th March. Gruffalo crumble, a Bruce Bogtrotter inspired chocolate cake, Silky's pop cakes or maybe some snozzcumbers for the brave!
Book tasting....An event where the children can sample a selection of texts. Maybe a graphic novel as a starter, a mystery for the main and to finish, a delicious poem for dessert!
The children had a great day, there were marvellous costume clues, spectacular spuds and some truly revolting and delicious recipes! Thank you to Mrs Miles for organising such a great book day!
Can you guess who our story spuds are?