Library opening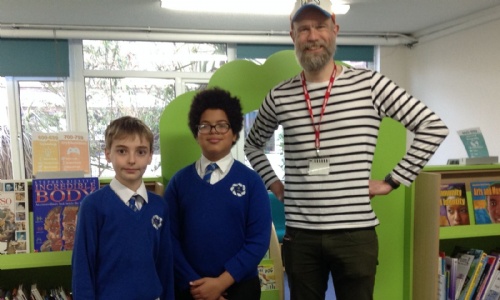 On Monday 30th January, we welcomed the author Olaf Falafel to St John's who came to officially open our new library.
The books have been catalogued, the shelves have been filled, the computer system has been tested and on Monday, Olaf cut the ribbon and officially declared the new library open! This means that the children can start borrowing books next week and should all have a library book to enjoy over the half-term break.
The children had a fantastic time when Olaf Falafel came to visit on Monday. There was a workshop for each key stage where the children learned all about Olaf's six jobs - author, illustrator, creator of Art Club, football coach, Dad and comedian. He also read one of his books (with funny voices!) and showed the children how to become illustrators by drawing one of his characters. The children then had a chance to meet Olaf when he signed their books in the new library.
Thank you to Mrs Miles for organising this fabulous day and to the PTA who raised the money to enable us to have our new library.