British values
Promoting Fundamental British Values.
In accordance with The Department for Education we aim to actively promote British values in schools to ensure young people leave school prepared for life in modern Britain.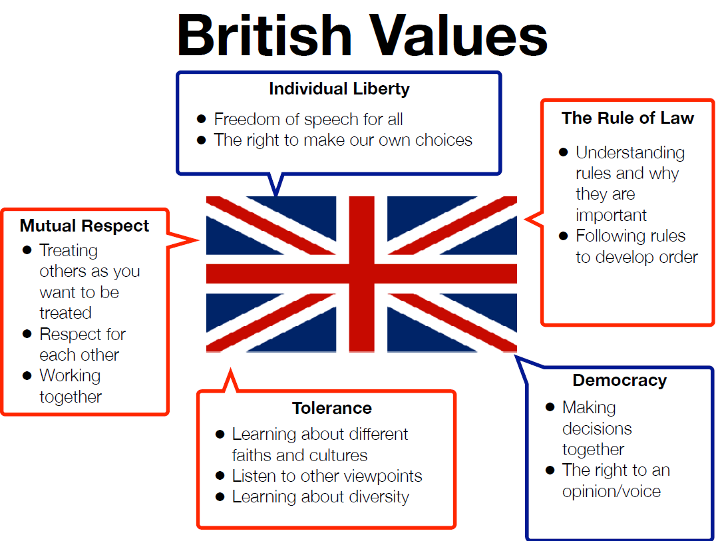 Pupils are encouraged to regard people of all faiths, races and cultures with respect and tolerance and understand that while different people may hold different views about what is 'right' and 'wrong', all people living in England are subject to its law.
British values are promoted as a central part of St John's culture and curriculum. The list below outlines some examples of when and where such British Values are embedded.
Democracy:
Children are involved in democratic processes e.g. School council, making decisions at a class and whole school level
Our Behaviour Policy reinforces the importance of social responsibility and fairness
The Rule of Law:
Children are taught about responsibility and the importance of rules and consequences
Children have opportunities to reflect on their learning, behaviour and safety
Visits from the Police, Fire Service etc. help to reinforce these messages
Individual Liberty:
Children are encouraged to make choices within a safe, supportive environment
Children are encouraged to have an understanding of their personal rights and freedoms e.g. through our teaching of e-Safety and PSHE.
Children are encouraged to take on responsibilities and be responsible
Mutual Respect:
Our School ethos promotes the importance of mutual respect and tolerance
Assemblies, class and whole school behaviour expectations reinforce respect
Our PE lessons reinforce the importance of fair play. We celebrate and reward success, promote the importance of being magnanimous in defeat and participate in activities that promote teamwork and collaboration
Tolerance of those of Different Faiths and Beliefs:
We aim to teach children to have an understanding of their place in a culturally diverse society by giving them opportunities to experience such diversity
We plan visits away from the School and visitors to the School so that we are able to broaden the children's cultural experience.
Our RE curriculum ensures that children have a balanced understanding of different faiths and beliefs
Some of our curriculum topics celebrate different cultures, faiths and beliefs
How we support British Values at St John's
please see below.